VFTB PSA
Written by Joe Aiello, Posted in General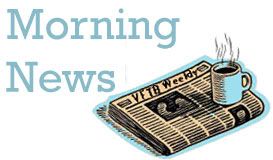 New Comment System – If you've been here for a little bit you may have noticed the other day that we changed the system we use for comments from the standard WordPress provided system to one provided externally by Disqus. I wanted to take a minute to explain the reason for the change and why I believe it's a better system for not only me as a moderator of the comments, but you as the contributor.
The biggest need for me is to be able to have people who are regular readers and commentors to never have their comments be flagged by the system as spam. If you're going to take the time to put a comment on the site, I want it to be posted immediately. It's why I've never gone to a system where you must have an account to comment. The system provided by WordPress did not really give me the ability to whitelist various e-mail addresses to never be flagged. Disqus allows me to do that. That said, if you have a comment flagged, know that it will be the only time it happens. Once I see that, provided that you're not spamming the site, you'll have your e-mail address whitelisted so as to never have it happen again.
In addition to the moderation benefits for me, the new system allows people to sign in with profiles such as Twitter and Facebook, which allows for the commenter to be a little more personal, which is nice. It should also lend itself to more user icons next to the comments and less mystery man icons, which has always been a goal of mine. The new system also allows the reader to create a Disqus account, which can then be used to set various notification settings across all the blogs that use the system, which includes sites like CNN.com, Time, and Fox News.
Finally, it allows the community we've built to reply to each other without the context being lost in a thread that may include 50+ comments. By clicking Reply to someone's comment, it will note in your comment a link to the comment you're replying to. It also allows you to click the icon of the person commenting to pull up the comment history of that person, which should easily allow you to look back at someone's comment history and should make Norm and Jedi's arguments much more engaging and heated because they'll be able to look back at things for ammunition on the other person for each of them to misconstrue and argue about. (We kid because we love).
I know there are some that have complained about the system, but it should be a better thing overall for the site as a whole.
How to Follow Us – It's been awhile since I've taken the time to inform everyone on the various ways we can keep you up to date on all that happens here on VFTB, so let's take a minute to run through that.
RSS Readers – This is my preferred method to follow blogs and websites that I like. If you're not sure what this means, this YouTube video is a great start for explaining it in easy to understand language. I use Google Reader, primarily because I use Gogle for everything, but you can use whatever method is easiest. This method is the best for being updated as soon as new post go up.
E-mail Subscription – There is a link on the site just below the website logo for e-mail subscription. This is a daily digest of new posts on the site that gets delivered at 3p eastern time each day. It's not the fastest way, but for those afraid to use other methods, this is a simple one. Just be sure to click the link in your e-mail to verify your request to subscribe.
Twitter – This is a newer way for the site, as we've really only begun to focus on the Twitter Feed in the last year or so, but if you're not following us, give us a look @VFTB. We'll even interact and answer questions if you tweet to us.
Calendar – Just to the right of the posts you'll see the calendar for the schedule of posts on the site. It's designed to be a guide to what posts are on the horizon and who will be writing them.
Get Involved – One of the things I've always tried to achieve with the site is community. I want the reader to come for the posts and stay for the interaction not only with other readers, but with the writers as well. We're nothing more than fans with the medium in which to put our thoughts out there for you to read. With that said, we're always welcoming feedback and suggestions from the people who matter most…the readers. If you have any suggestions, questions, or comments on the site, please e-mail me – joe@viewfromthebleachers.com