Guess Who's Back? Bobby's Back
Written by Joe Aiello, Posted in General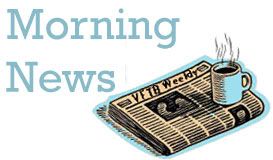 Before we start the news, a brief personal life rant. We took the kids to Florida about a week ago and went to Magic Kingdom for the day. It's the first time I've been to Disney World since I was a kid. I came away with one main impression followed be a few small impressions. The main thing I came away impressed with was their ability to make you bend over and drop your pants as they robbed you of all known dignity by charging you close to $300 to get in. That paid for me, my wife and my oldest son. Thankfully my youngest boy is only two and my daughter is just a few months old so they got in free. Once I pulled my pants up, we proceeded to pull them down once again at dinnter time and pay almost $40 for dinner in the park which consisted of chicken strips, fries, a BBQ sandwich and a roasted chicken plate. No drinks. The funny thing is, it's not the prices that amazed me. It's the way they end the night. They have a parade right through the heart of the park once it gets dark and then follow it up with some fireworks right over the castle. You end the night thankful for the opportunity to be taken advantage of. It's a weird feeling once we're done, but I'm glad we pulled our pants down. Now on to the news.
The Cubs signed "veteran" Bobby Scales from Japan to a minor league deal. Unfortunately, he still sucks and deserves no place on the Major League roster. He hit .261/.328/.394 with nine homers in 287 at-bats for the Pacific League's Fighters. I don't understand the point of the move other than it adds "veteran" depth in the farm system.
Dave Van Dyke ran a piece in the Tribune over the weekend on Brett Jackson and how he feels he's ready for the Major League team. There was a quote that had me particularly pleased. "I value myself as a team player and someone who can really ignite an offense at the head of the lineup or in the middle. I'm capable of hitting for power and driving runners in, plus there's nothing like getting on base and being driven in by somebody too." I don't think he'll make this team out of spring training, simply because there is no spot for him, but he can make enough of a mark that Theo and Jed look to deal Marlon Byrd sooner rather than later.
Another name competing for a spot in Spring Training is Manny Corpas, who is still recovering from elbow surgery. He was removed from the 40 man roster recently, but invited to camp, to make room for Kerry Wood who signed a deal a week or so ago. I'm not really holding out much hope that Corpas will produce anything, but perhaps when he's fully recovered he can be a pleasant surprise.
John Sickels chimed in with a post that highlighted a couple of grade C prospects to watch in 2012. The Cubs name that made the list was Neftali Rosario:
Neftali Rosario was drafted by the Cubs in the sixth round last June, from high school in Gurabo, Puerto Rico. He didn't receive much attention pre-draft, but there are things to build on here. Although he needs more experience to refine his blocking skills, Rosario is mobile and should be an effective deterrent against baserunners due to a strong throwing arm. He has power, but his plate discipline needs work; he strikes out a lot and doesn't draw walks yet, but he was just 17 on draft day and has plenty of time on the clock. He bears watching. Grade C with higher potential.
In non-player news, Bud Selig announced two things that impact the Cubs. First, the playoffs should be expanded as early as this year to 10 teams instead of the "traditional" eight teams. That means despite having a flaming pile of suck, the Cubs chance of making the post-season and being swept in the first round just increased. Also announced by Bud was that he is now in charge of the compensation for Theo Epstein to the Cubs. What has me nervous about that is an article in the Boston Globe saying "The Cubs and Red Sox will soon meet with a representative of the Commissioner's Office or the commissioner himself to discuss the Epstein compensation issue. The best school of thought on this comes from an AL GM who is not associated with either team: "I think the commissioner will give the Red Sox a significant player. I don't think MLB wants executives leaving their teams before their contracts are up and therefore he will try to deter teams from doing that again."
MINOR NOTES
Looking for an international player to roll the dice on? View the list of available guys. (Disclaimer: VFTB makes no guarantee on players ages or names)
Christina Kahrl took a look at what an average player looks like at each position. Since the Cubs may have a lot of names hovering around these numbers it may be worth looking at.
PHOTO OF THE DAY
Joe's iPod