Morning News: Afternoon Edition
Written by Jeremiah Johnson, Posted in General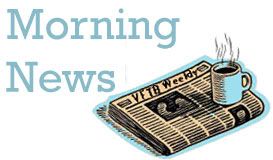 Strike One:  Joe Paterno passed away over the weekend.  The final year of his coaching career saw him achieve the highest highs, becoming the winningest Division 1 coach in history, and sink to the lowest lows, as the Jerry Sandusky scandal engulfed the entire football program and led to Paterno's eventual ouster–all in the space of a few short weeks.  While his on-the-field legacy is secure in most eyes, it remains to be seen if or how the forthcoming Sandusky trial further tarnishes the longtime coach's personal legacy.  For some people his death may come as a relief, as he won't face further humiliation and shame over his relationship with Sandusky.  For others–and especially Sandusky's victims–his passing means they'll never get answers to their questions concerning Paterno's role in the apparent coverup.  His funeral is set for Wednesday.
Foul Tip Ball One:  The day before Paterno died, a Penn State student-run new organization called Onward State erroneously tweeted news of Paterno's death.  The story was picked up by several national news outlets before it was recanted, and the editor of Onward State resigned over the mistake.  Less than a day later, Paterno was dead–for real this time.  I wonder if the editor regrets his knee-jerk resignation now?
Strike Two:  Are you ready for a rematch?  By now you know that the Patriots and Giants both won yesterday, and are now on a two-week, hype-loaded collision course for Super Bowl XLVI (46–I had to look it up).  Do you expect a dominant performance from Brady, Gronkowski, and Hernandez, or some more late-game heroics from Eli and the Giants defense?  Here's John Clayton's early breakdown of the game.  And in case you missed them, here are the highlights from yesterday's Ravens-Patriots and Giants-49ers games.
Foul Tip:  Steven Tyler was asked to sing the National Anthem before the Ravens-Patriots game yesterday, apparently by someone who had never heard Steven Tyler sing before.  Here's the video, along with some links to other famous train wreck versions.  Tyler's version was not what you'd call good, but it could have been a lot worse.  Or funnier.
Strike Three:  Don't shed any missed-it-by-that-much tears for longtime Ravens linebacker and human wrecking ball Ray Lewis–he's not retiring yet.  However, another fixture of an East Coast powerhouse has decided to hang it up.  Jorge Posada plans to retire tomorrow as a Yankee, rather than continue his career somewhere else.