Morning News: None of these things is quite like the other
Written by Jedi Johnson, Posted in General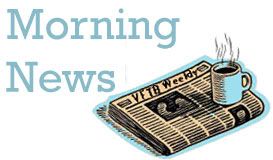 Conference Championships – this is the most intriguing weekend of the football season. Two weeks of buildup and one game, or one week of buildup and two games? I prefer the latter. By the time the Super Bowl rolls around there's a distinct "just play the game already" attitude due to the overwhelming two weeks of analysis. But this week, we get two great games that could easily go either way. The first game finds the Ravens in New England looking to pick up a road win to advance. You'll get to see a great defense (Ravens) against a fantastic offense (Patriots) AND a crap defense (Patriots) against a pedestrian offense (Ravens) all in the same game. Once the AFC has been decided, there's a rematch in San Francisco where the 49ers host the Giants – Eli's Giants not Lincecum's. Jeremiah has more than once remarked that the Jimmy Neutron helmet Eli wears gives him an inordinate amount of confidence when he takes a hit – he's going to need that advantage against the 49ers' defense. Either of these games could be ugly, great, memorable, or all of the above. In the end though, we'll get one of four games 1) a Harbaugh Bowl II (Ravens v. 49ers), 2) a rematch from the 2008 Super Bowl (Giants v. Patriots), 3) two franchises with a bunch of Super Bowl wins between them (49ers v. Patriots), or 4) a quirky matchup which would guarantee either Eli surpasses big brother's ring total or the NFL franchise from Baltimore makes a name for itself yet again in Indy (Giants v. Ravens). Any of those would be interesting matchups, but the one that would get the most hype would no doubt be the 2008 rematch.
Tim Tebow's Take: He needs the Patriots to win so that Brady winds up missing out on the Pro Bowl next week in Hawaii (though admittedly, Brady might skip it anyway). Andy Dalton is the AFC's first alternate QB, Tebow is next in line. It's conceivable that one of the other two Pro Bowlers (Ben Roethlisberger or Philip Rivers) could bow out of the game for any number of reasons. So you may not be done with Tebow just yet!
Side NFL Note – our Vice President is a buffoon, although I bet most of you never heard about this yesterday. Somewhere Dan Quayle is trying to spell envious.
Captain Stubini – if you haven't been tracking the sinking of the Costa Concordia, I'll sum it up: if the captain had been French instead of Italian, we could've confirmed nearly every French stereotype in a single story. I always knew Gavin McLeod didn't get enough credit.
Baseball? – that's what I'm supposed to be covering? Not too much that's terribly interesting, Jamie Moyer took a minor league deal in Colorado. At the age of 49 there's no truth to the rumor that Seymour is recruiting him for next year's fantasy camp. The Cubs re-signed Rodrigo Lopez – don't worry, it's just a minor league deal with an invite to Spring Training and a decent pay raise if he stays on an MLB roster. Yu Darvish got $60 million (salary only, the posting fee was another $50 million) from the cash strapped Texas Rangers; no word on CJ Wilson's analysis of the deal. And Fausto Carmona was caught using a fake ID; which is apparently redundant as his given name is Roberto Hernandez Heredia – not surprisingly he's been lying about his age too!
And now for something completely different – the Carmona story reminds me of this famous Monty Python bit.