Cubs Announce Changes To Wrigley Field
Written by Jeremiah Johnson, Posted in General
During the Cubs Convention Saturday, the team announced a plan to bring to rooftop experience inside Wrigley Field.  The area above the right field corner (formerly the Bleacher Box Seats) will be renovated in the coming months to create the Budweiser Patio.  With a look reminiscent of the seats on top of the Green Monster in Fenway Park, the section will hold roughly 150 fans, with limited rows of elevated seating.  Perhaps the most dramatic part of the renovation is the installation of a giant LED board directly above the right field basket that will display player photographs, expanded stats, and other in-game information.
Here's ESPN Chicago's story.  The Cubs expect the new section to be finished in time for Opening Day.
And here's an official sketch of what the new section will look like.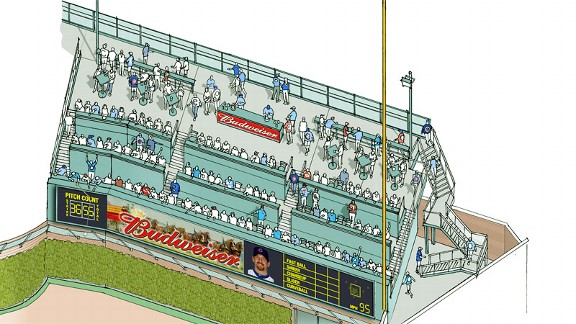 My take:  Because of the perspective of the drawing, it's hard to tell what the renovated section will look like on Opening Day.  What is clear is that it will mean the loss of several front row/basket seats, which seems like a waste.  Those are some of the greatest seats in all of baseball, and the Cubs are throwing them away.  It better be a really nice screen.