Morning News: Advisory Panel
Written by Joe Aiello, Posted in General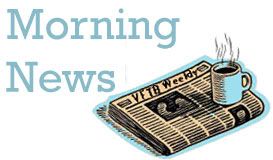 This morning's news is short and sweet, but very much needed and appreciated. As we head into the season in just a few months, my mind is always working with ideas on how we can improve the reader experience. I like to get feedback on my thoughts to help weed out the many dumb ones and mine for the few good ideas I have. That's where you come in. I want to get your feedback when I have thoughts. If tyou're willing to be included in an advisory committee for the site, I want to hear from you. It would be a list of people I'd send an e-mail to asking for opinions, suggestions and overall feedback on things related to the site. If that's something that interests you, please send an e-mail to joe@viewfromthebleachers.com with your VFTB name and I'll add you to the list.
Thanks for reading and for being the reason why we all enjoy doing this year in and year out. For me, this will be season number nine writing about Cubs baseball. It's been a long journey.
WHAT'S ON JOE'S IPOD?