Mid-Morning News
Written by Jeremiah Johnson, Posted in General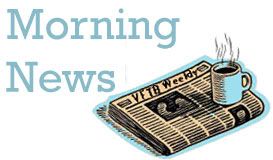 Strike One:  Defense and Place Kicking Wins Championships  Alabama thumped LSU 21-0 last night to win their second national championship in three years.  It was a defensive struggle to say the least, with all but the last six points coming off field goals.  My sympathies go out to LSU fans, who had to watch an undefeated SEC championship season go down the drain at the hands of a team they'd already beaten.  And while it's hard to imagine anyone but Crimson Tide fans being satisfied with such a lopsided game, how did you enjoy the rematch?
Strike Two:  Barry (no, not that one) Heads to Cooperstown  Longtime Cincinnati Reds shortstop Barry Larkin got the call from the Hall of Fame yesterday.  He'll be the only other player inducted this July along with Ron Santo.  Other noteworthy players who missed the Cooperstown cut this year included Jeff Bagwell, Tim Raines, and former Cubs closer Lee Smith.  Who would have been on your HOF ballot?
Strike Three:  Arms Race  Epstein and Hoyer continue to address one of the biggest flaws with the 2012 Cubs.  Last night they signed left-hander Paul Maholm to a one-year deal–one that may pave the way for them to trade Matt Garza.  Their asking price for Garza is thought to be very high–so high in fact that the Yankees have bowed out of the race.  And the Cubs are also working on resigning Kerry Wood, although Dave Kaplan is not optimistic the two sides will agree on a deal.  While Wood may not factor too much into the front office's long term plans, it would be great to have him back in a Cubs uniform again next season.