Morning News: Bowl Games, Firings, and Vicious, Wild Dogs
Written by Jeremiah Johnson, Posted in General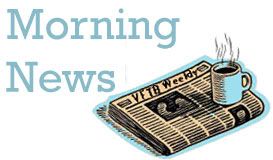 Strike One:  Considering how many playoff spots were still up for grabs, Week 17 in the NFL was surprisingly lackluster.  Monday's college bowl games made up for it, and then some.  Maybe you saw Michigan State and Georgia duke it out into triple overtime.  Maybe you caught the offensive duel in the Rose Bowl, as Wisconsin and Oregon traded scoring drives for most of the afternoon.  Or maybe you held on to watch my Oklahoma State Cowboys win the Fiesta Bowl in dramatic fashion.  With a few more bowl games dotted throughout the week before the National Championship rerun game next Monday, what has been the highlight of your bowl season so far?  Mine was screaming like a lunatic and scaring my nephews after Stanford missed what would have been a game-winning field goal and reopened the door for the Pokes in overtime.
Strike Two:  Speaking of Stanford, future NFL Hall of Famer Andrew Luck's career path looks to begin in Indianapolis, as the Colts secured the first pick in the draft with a loss on Sunday.  On Monday, Colts' owner Jim Irsay triggered some seismic changes in the front office by firing Bill and Chris Polian.  The dismissal of the Polians might be an indication of the teams' plans for Peyton Manning–who is close friends with the Polians, and sounded somewhat shocked and dismayed in his comments quoted in the article I linked above.  Might this be the beginning of the end for Manning and the Colts?  Will they trade him away and gamble on the wunderkind Luck?  A few weeks back, Grantland's Bill Barnwell wrote an interesting article about the possible destinations for Peyton.  Personally, I'd rather gamble on Manning and trade away the pick to fill the many other holes the team has, but I've been told that makes me a world-class idiot.
Foul Tip:  Chicago joggers, stay away from the lakefront!  Packs of wild dogs will attack and (nearly) kill you.
Strike Three:  Like most Cubs fans, I've been keeping one eye on MLBTradeRumors.com for the latest news on Matt Garza.  A couple weeks back I wrote about the reasons I think the Cubs should keep him.  And while I still stand by everything I said then, I am happy that Epstein and Hoyer are (supposedly) listening to the offers.  The reality is that as much as we need pitchers like Garza, he's more valuable right now to a team that doesn't have a dozen other holes to fill.   For the most part, the teams that have been rumored to be interested in Garza are contenders, or at least nearly contenders–teams for which a pitcher like Garza can make a substantial difference.  I'm still not eager to move Garza, but if there's a team out there who is willing to overpay for Garza, I'm glad to know our front office will at least answer the phone.