Morning News: Football, Garza, NASCAR, & Gary Busey
Written by Jedi Johnson, Posted in General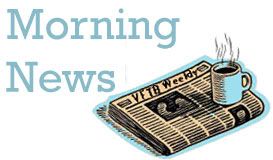 Four Days of Football, Part 1 – between now and Monday night's kickoff of the Fiesta Bowl there will 32 football games (16 each college and pro). Most of the NFL games are at least marginally compelling, but the regular season finale between the Giants and Cowboys should be highly entertaining – whoever loses will have choked away a trip to the playoffs and a home game in the first round against the Lions; in other words, a trip to the second round. And of course there's Tim Tebow; either the Broncos or the Raiders are going to the playoffs, and actually the Chiefs probably have more to say about the situation than anyone (they are Denver's opponent on Sunday).
Four Days of Football, Part 2 – some of the notable bowl games should be quite entertaining, but it'll be hard to top last night's Alamo Bowl (the Baylor-Washington game, not the FSU-ND slapfight). Heisman winner Robert Griffin III and the Bears played a game worthy of the arena league, burning up the turf for a 67-56 win over the Huskies – in regulation! The highlights are worth a look, unless you love defense because there was absolutely none in this game.
Obligatory Garza Notes – some sources seemed to think trade talks were heating up over the last couple of days, specifically with the Blue Jays. But everyone agrees Theo and Jed are asking for a lot in return; seems like the Cubs are slow-playing this option at the moment but their potential trade partners are trying to speed it up. It might have something to do with the fact that Edwin Jackson and Hiroki Kuroda are the top free agent arms remaining. Don't expect the rumors to stop anytime soon.
NASCAR – my only comment on this story; it's hilarious that THIS is where Kasey Kahne draws the "nasty" line. I would think that for a NASCAR driver who probably sees more plumber's crack in one day at the garages than most of us will see in our lifetime; who literally works within sight of rows of Andy Gumps; and whose die hard fan base includes a high percentage of people who think "hygiene" is nothing more than a two word phrase they use to greet their friend Gene – I would think he would be able to handle this situation with a bit more indifference. However, the woman who most vehemently chided him is completely crazy as well.
Gary Busey – this seems like a fairly terrible idea, but apparently it's just the type of crap that TV producers are looking for.