Morning News: Contracts, Injuries, and Footwear-Induced Violence
Written by Jeremiah Johnson, Posted in General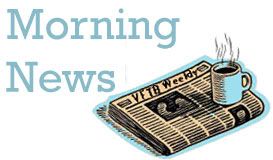 Strike One: Mets pitcher R.A. Dickey has been asked by the team to cancel his charity climb of Mt. Kilimanjaro.  The team sent Dickey a letter informing him the last year of his contract can be voided if he injures himself in the climb.  GM Sandy Alderson appears to have preemptively adopted the "mom" stance, saying the team doesn't think it's a good idea, but they can't stop him.  From the Mets' perspective, this is basically an insurance policy guarding them against the slim possibility Dickey could injure himself while they're on the hook for $4.5M.  On the other hand, if you're Dickey, wouldn't an ugly tumble down the mountain be worth it to escape another season with the Mets?
Strike Two: The Vikings announced on Monday that Adrian Peterson suffered ACL and MCL tears in his left knee, and it could be between 8-10 months before he returns to the field.  His is just the latest in a rash of season-ending injuries to franchise players this season in the NFL.  My beloved Bears' season ended when Jay Cutler broke his thumb (unleashing the blitzkrieg of Caleb Hanie interceptions).  Peyton Manning's neck injury ended the Colts season before it began (although some would say it only made a bad team worse).  What was the most costly injury in the NFL this season?  And what was the worst one your team suffered?
Strike Three: Last Friday, Nike released a new pair of Air Jordan throwbacks.  The shoes cost $180 a pair, and were the reason for lengthy lines at shoe stores across the country.  Although each store carrying the shoe only had 150 pairs, crowds numbering in the high hundreds–even exceeding a thousand at some stores–swarmed to purchase the limited edition shoes.  In many cases across the country, those crowds turned violent when the stock ran out.  Do you know anyone who braved the angry, Black Friday-esque crowds and picked up a pair of retro Jordans?