Could He Be A Cub: Jeff Francis
Written by Buddy, Posted in General
It will be interesting to see how Theo Epstein approaches the Cubs 2012 roster. Will he tear it down and completely rebuild, or will he try to piece together a possible contender in a winnable NL Central?
Whatever Epstein decides, he has to address the starting rotation. We all have painful memories of the Cubs 2011 pitching carousel. Could free agent starter Jeff Francis provide some stability?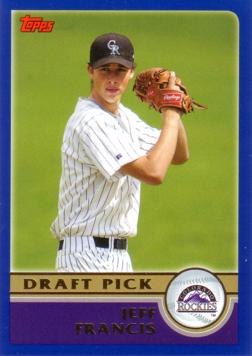 When evaluating the career of 30-year-old Jeff Francis, it's important to remember that he spent six seasons in Colorado. To call Coors Field a hitters' park would be a massive understatement.
Coming back from 2009 and 2010 arm troubles, the left-handed starter was up and down for the Kansas City Royals last season. The good news? Francis was durable, making 31 starts. The bad news? A 4.82 ERA, 11 hits per 9 innings pitched, and a troublesome strike-out rate.
Francis has never blown anyone away with his stuff. He's a control pitcher who relies on deception and changing speeds. In seven Major League seasons, Francis has walked 2.8 batters per 9 innings pitched. From that standpoint, I'm optimistic about what he could contribute in 2012. Of course, that assumes he's healthy.
Another mark in his favor is money. Francis made $2 million last season, so the free-agent price tag should be reasonable. Would he take a one-year deal in the hopes of re-establishing himself? I think that scenario is very likely.
Garza, Dempster, and Wells would be a respectable start to a 2012 rotation. Perhaps Jeff Francis could be that "lightning-in-a-bottle" starter the Cubs will need if they have any hopes of competing next year. Even in a rebuilding year, somebody has to take the ball. I don't know about you, but I've seen more than enough of Casey Coleman and Rodrigo Lopez.
Jeff Francis Career Stats
Year   Age  Tm  W  L  ERA  GS     IP  HR ERA+  WHIP  H/9 HR/9 BB/9 SO/9 SO/BB
2004    23 COL  3  2 5.15   7   36.2   8   96 1.500 10.3  2.0  3.2  7.9  2.46
2005    24 COL 14 12 5.68  33  183.2  26   84 1.623 11.2  1.3  3.4  6.3  1.83
2006    25 COL 13 11 4.16  32  199.0  18  118 1.286  8.5  0.8  3.1  5.3  1.70
2007    26 COL 17  9 4.22  34  215.1  25  114 1.379  9.8  1.0  2.6  6.9  2.62
2008    27 COL  4 10 5.01  24  143.2  21   94 1.483 10.3  1.3  3.1  5.9  1.92
2010    29 COL  4  6 5.00  19  104.1  11   93 1.361 10.3  0.9  2.0  5.8  2.91
2011    30 KCR  6 16 4.82  31  183.0  19   85 1.437 11.0  0.9  1.9  4.5  2.33
7 Seasons      61 66 4.78 180 1065.2 128   98 1.430 10.1  1.1  2.8  5.9  2.13