Rotation Rebounds?
Written by Norm, Posted in General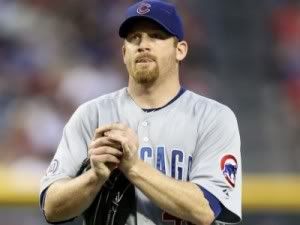 The Cubs starting rotation finished dead last in ERA in 2011 thanks to a revolving door at the #5 spot and poor seasons by both Ryan Dempster and Randy Wells. Matt Garza figures to top the rotation heading into 2012, unless new President, GM, Emperor, or whatever other title Theo Epstein gets, decides to go into full rebuild mode and trade the Cubs most valuable pitcher. Both Dempster and Wells will likely join Garza leaving a couple question marks at the back end, but it's the two veterans that need to rebound to give the Cubs a solid trio of pitchers. So, what are the chances Dempster and Wells get back to pre-2011 performance?
Ryan Dempster was converted from closer to starter four seasons ago and he's pitched 200 innings in each of those seasons. That alone is a pretty telling number. A bad pitcher won't be pitching 200 innings a season. Well, at least he shouldn't be. I don't think anyone could have seen how successful he would become as he was coming off two poor seasons in the bullpen where he combined for a 3-16 record, 4.76 ERA, and 12 blown saves.
But succeed he did by having the best season of his career. He would go 17-6 with a 2.96 ERA (with a 5.2 fWAR) and finished 6th in Cy Young voting. He wouldn't have the same results in 2009 and 2010, but still put up over 200 innings in each with solid ERA's and a combined 7.1 fWAR. If you believe in Fangraphs version of WAR, he was the 14th best pitcher in baseball from 2008-2010.
So what happened in 2011? At first glance, I was ready to chalk it up to bad defense and bad luck. Since Joe has an ESPN affiliated Cubs blog, we contributors have access to a great tool. Thanks to ESPN Stats & Information, I see that in 2011, left handed hitters crushed Dempster to the tune of 303/382/480 (.371 wOBA). In 2010, those numbers were 234/332/373 (.313 wOBA). I was ready to blame that entirely on the .391 BABIP, but a deeper look, and an excuse to use ESPN Stats & Information's 'Heat Map', we can see a pretty clear picture of a cause to that high BABIP, and that is the location of the splitter:
2010, Splitter location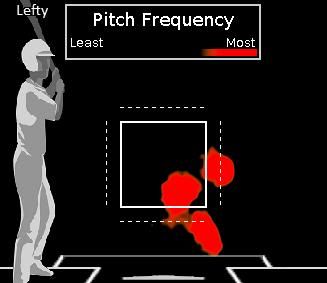 2011, Splitter location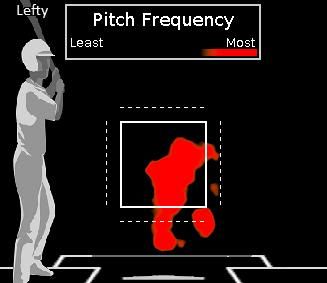 Dempster simply caught too much of the plate, resulting in 14 more hits, including five that went for doubles. He had a similar problem with his fastball against left handers, leaving the ball belt high resulting in 12 more hits compared to his 2010 numbers. Altogether he gave up 24 more hits (2 fewer hits on his slider) in 346 at bats. If you knock his hits down to 2010 levels, his .303 AVG against drops to .234!
There are other numbers, however, that give me hope. His performance against right handed hitters and his overall strikeout percentage, walk percentage, home run percentage, and velocity are right in line with his 2008-2010 numbers. This information provides me with some optimism that he can bounce back and put up another 3.0 fWAR season with a sub-4.00 ERA in 200-plus innings. I feel it will come down to locating that splitter and fastball against left handers.
Randy Wells, I think, is a much easier case. Wells wasn't much of a prospect coming up through the system and he wasn't anything special in the minor leagues. But in 2009, he threw 165 innings with a 3.05 ERA, good for a 3.0 fWAR, surprising everyone. His 2010 wasn't as good, adding well over a run to his ERA, but there were some good signs such as an increase in his strikeout rate while maintaining an above average walk rate and a healthy number of ground balls while putting up another fWAR over 3.0.
I was bullish on Wells going into 2011, thinking he could put up a third consecutive 3.0 fWAR season, but a forearm strain right out of the gate took him out of the rotation for nearly two months. It would be easy to blame that for his poor 2011, as his ERA rose to nearly 5.00, his strikeout rate dropped, walk rate increased, and his home run rate nearly doubled. But I'm not sure I can blame the forearm. I'm going to blame his loss of velocity that you can see on this chart, courtesy of Fangraphs:
Fastball Velocity, 2009-2011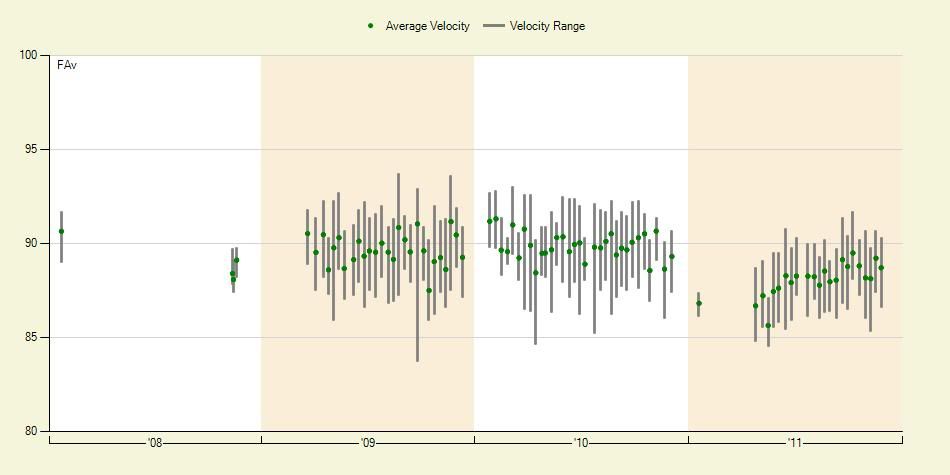 Now, maybe his forearm was the cause of that loss of velocity, but note that first game in 2011; the velocity was low before the forearm injury. Maybe it was affecting him in that first game, but I don't know that for sure. It does appear that the velocity was on a slow, but steady, incline, but I'll stick to the problem being the loss of velocity (nearly 2 mph according to ESPN Stats & Information) for now and wait and see what 2012 brings. If the forearm is the cause of that velocity drop, the offseason of rest will hopefully be enough time to recover. But if he's healthy and the velocity doesn't come back to pre-2011 levels? I fear Wells' best days may already be behind him.
What do you think? Do these pitchers rebound? Do you see something else that leads you to feel one way or the other?