Game 159 – Oh Wells…
Written by Dustin Godsey, Posted in General
Cubs 2, Cardinals 3
Box Score / Highlights / Condensed Game
What Went Right
All's Wells That Ends Wells  – Let's see how many Wells puns I can make in one post… In all seriousness, after a rough first half of the season, Randy Wells finished the year looking like the kind of pitcher we can expect him to be. He's a serviceable end of the rotation guy who can get guys out without looking spectacular. We'll get to the bad soon enough, but most days when you get eight innings and just three runs allowed out of Wells, you're going to be happy.
Defensive Wizardry – Ok, that's a bit of hyperbole, but the fact is that I've had ample opportunities to bag on the Cubs' defensive problems all season. Today, however, Chicago didn't record an error. Let's hear it for lowered expectations!
Triple-Double – On a day when the Cubs managed just eight base runners, it is tough to find too many bright spots on the offensive side of the ledger. However, if we're looking for the silver lining, Carlos Peña, Blake Dewitt, and Marlon Byrd were the only north-siders each reached base twice, accounting for 75% of the Cubs total baserunners and 100% of the team's runs scored.            

What Went Wrong
Not Digging the Long Ball – Wells kept the big boppers in the Cards line-up from hurting him on Sunday, as Albert Pujols, Lance Berkman, and Matt Holliday were a combined 1-10. It was the little guys doing the damage instead, with Yadier Molina and Rafael Furcal hitting game-tying and game-winning homers in the 7th and 8th innings. This hasn't been rare this season in games between these two teams, as Molina hit four of his career high 14 home runs against the Cubs.
Token Questionable Qall – I'm not sure what I would have done, but in hindsight, it sure is easy to question Mike Quade's decision to trot Wells back out for the eighth inning. Heading into that inning, he was sitting on 96 pitches and had just given up the lead on a mistake pitch in the seventh. I'm not going to kill Q for that decision though, but it just seems like even when it's a toss-up, he has made the wrong choice this season.
Missed Opportunities – The Cubs had opportunities to get a couple insurance runs in this one, but going 1-6 with runners in scoring position isn't going to get the job done. Outside of Castro's go-ahead single in the 7th, the Cubs batters couldn't find a hole when they needed it. Randy Wells did account for two of those six at-bats, so a little bit of bad timing was also in play on Sunday.
Misc. Notes
Quade indicated that Monday's series opener in San Diego will feature a "Kid's Day" line-up, including the first MLB start for Steve Clevenger behind the plate.
Castro's 7th-inning single was his 203rd hit, which should be more than enough to become the youngest player in history to lead the NL in that category. Matt Kemp sits 12 hits behind him.
Pujols received a nice ovation from the home fans in each of his at bats in the last regular season home game for St. Louis. I expect he'll be hearing very similar cheers in the home opener at Busch Stadium next year.
With the Braves' 3-0 loss to the Nationals, the Cardinals are just one game out of the Wild Card. Hooray…
The Takeaway
After the series opener on Friday, I was feeling pretty good about the opportunity to see the Cubs put an end to the Cardinals' post-season aspirations. Of course, I didn't count on Chicago simply handing two games to St. Louis while the Braves were struggling against Washington. So much for moral victories. Hot stove season officially starts in three days.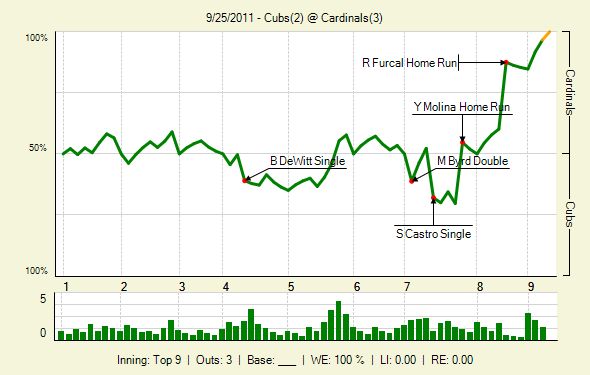 Stars of the Game
Base on Win Probability Added (WPA)
1st Star – Rafael Furcal (.220 WPA)
2nd Star – Yadier Molina (.215 WPA)
3rd Star – Jason Motte (.153 WPA)