Game 155 – Not so Wells
Written by Norm, Posted in General
Cubs 1, Brewers 5

The final 2011 night game at Wrigley saw the soon-to-be playoff bound Milwaukee Brewers knock around Cubs starter Randy Wells and get strong pitching from Shaun Marcum as Milwaukee beat the Cubs 5-1.
What went right:
Starlin Castro hit his 10th home run of the year to extend his on-base streak to 33 games. The hit also gave Castro 336 in his first two seasons, surpassing Glenn Beckert's Cubs record of 335 in 1965-66.
The bullpen pitched well, getting 4 good innings by Ramon Ortiz, Andrew Cashner, and John Grabow.
We're one game closer to the end of Mike Quade.
What went wrong:
Randy Wells. In the third inning he gave up 4 runs on 5 hits. He left most of his pitches up in the zone that inning and Milwaukee teed off. In the fifth inning, he unleashed two wild pitches with Nyjer Morgan on base who would go on to score on a fielders choice. Wells final line was 5 innings, 6 hits, 5 earned runs, 2 walks, and 3 strikeouts.
The offense knocked a total of 6 hits to go along with 10 strikeouts and zero walks and was 0-5 with runners in scoring position.
Ramon Ortiz and John Grabow pitched instead of guys with a future on the team.
Notes:
Aramis Ramirez left the game with a mild right quad strain. It might have been his last home game with the Cubs.
*Update on Ramirez, he was asked after the game if this would be the last. Here are some of his quotes:
"Probably," he said. "There's a good chance. I'm a free agent and I don't know what's going to happen. But it looks like I'm going to hit the market."
"We don't have a GM, so I don't know who you talk to," he said.
"I think we're ready to move on"
Bob Brenly on Monday night's Campana caught stealing: "CB Bucknor usually blows one routine call per game, and that was it."
The Cubs Chairman Tom Ricketts told scouting director Tim Wilken that he will be back in 2012. Longtime scout and Jim Hendry confidant Gary Hughes has told the Cubs he will not be returning next season.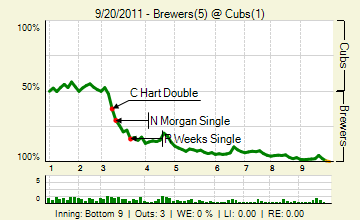 Stars of the Game
Base on Win Probability Added (WPA)
1st Star – Shaun Marcum (.286 WPA)
2nd Star – Nyjer Morgan (.171 WPA)
3rd Star – Corey Hart (.068 WPA)